Top-Rated Roof Cleaning in Freehold
Complete Power Washing is a roof washing company ready to tackle any of your cleaning needs in the region. We are a service-oriented cleaning company with years of experience in the industry providing pressure washing, soft washing, and roof washing in Freehold, NJ, and more. We are a small business and proud to offer the best Freehold roof cleaning near me services to each of our customers as part of our customer family. We have invested in the best so our customers can reap the advantages of an experienced, well-trained team of experts. As a cleaning service company, we have a standard of offering each of our customers an in-person estimate on their cleaning job, so they know what to expect. We strive to give the most realistic, tailored quotes possible so our customers know they are getting the best deal for their money.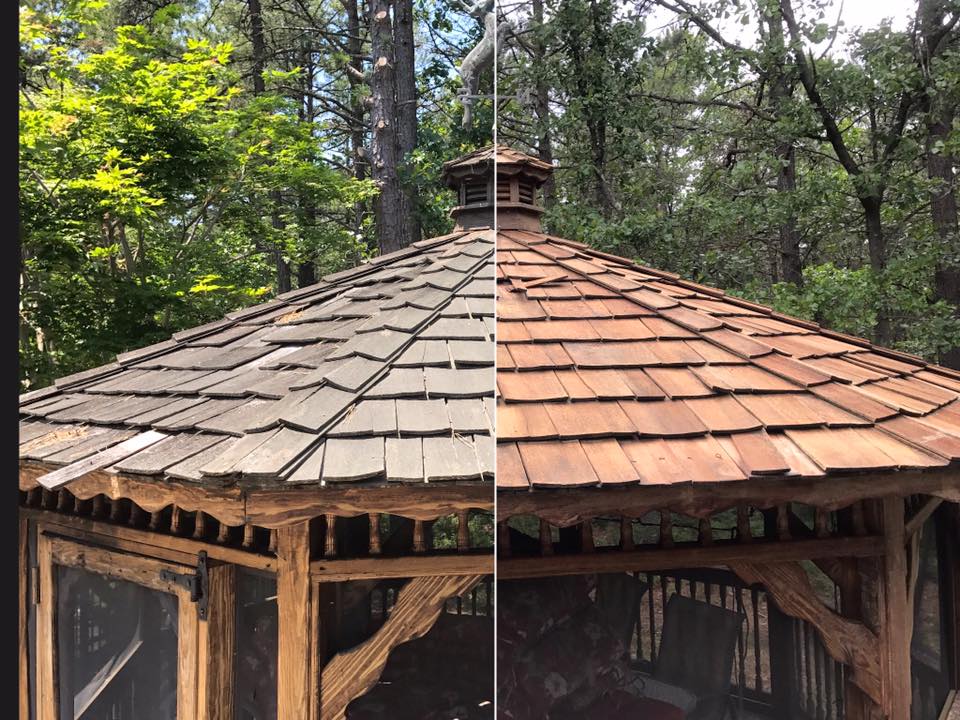 Searching for Freehold Roof Cleaning Near Me?
Invest in the exterior of your home from top to bottom with top-rated roof washing in Freehold, NJ! Our roof cleaning method is the best way to preserve quality, create a fantastic first impression, and protect your shingles over time. Along with removing the black streaks on your roofing caused by Gloeocapsa Magma, we offer a mild washing solution that completely removes subsequent growth. Our solution includes a technique that will remove blemishes, kill bacteria/fungi, and protect your roof. When it comes to removing stains, slight discoloration, and other faults from your roof, Complete Power Washing LLC's cleaning treatments are unmatched. Moss, mildew, and mold frequently develop on roofs. By eliminating the filth at its source, our soft-wash roof cleaning methods stop it from happening again.
Expert Roof Washing Freehold NJ Residents Trust
If you are searching for professional and affordable Freehold roof cleaning near me, you have come to the right place. Regardless of the task, we always aim to provide all our customers with exceptional roof cleaning in Freehold, NJ services at fair prices. We might provide you with time and cost estimates before we get started so you will know precisely what to expect from our staff. For them to entrust us with all their soft washing needs, we work hard to gain our clients' loyalty and trust. By getting a simple soft wash roof cleaning, you can spare yourself the headache of having to fix or replace it later. You won't need to worry as much about your roof's condition thanks to our roof cleaning in Freehold, NJ.

Call Today for Roof Washing in Freehold, NJ!
Monmouth County, New Jersey's Freehold Township, is conveniently located halfway between Philadelphia and New York City and is made up of 38 square miles. The community's citizens enjoy access to a top-notch educational system, a renowned parks and recreation division, and Freehold Raceway Mall, the primary shopping center in the area. Freehold Township is special because it can offer all of these comforts while yet maintaining its rich, rural, and historic character. The Freehold Township Heritage Society is based in the city, and its major objective is to safeguard and preserve the city's rich heritage. The city is home to various historical sites, such as the Wikoff Cemetery, Hartshorne Farm, and Blacksmith Shop, which may be visited through guided tours and historical museums. Visitors and locals can travel to Downtown Freehold for more contemporary activities as it is the city's hub for entertainment and retail shopping. Numerous festivals take place all year round in the downtown area, where there is often live street music.
The owner is one of the nicest people I've met. Very fair price. He power washed my deck railing free of charge. House looks great and his team was very quick, thorough, and clean. Will use this company again. Definitely
Adam is great to work with, competitive pricing , does a very thorough job actually washed more than his written estimate. Highly recommended
Damon Maverick
2022-05-05
Complete bang for your buck! Highly professional. They won't disappoint you at all.
Adam cleaned my brothers huge house for me and it turned out amazing!
Highly recommended. Adam was quick to respond and accommodating to rescheduling when needed. The pricing was fair and the work was great. Very efficient and easy to deal with. I will certainly use them again for future cleanings!
We've used Complete Power Washing a few times now. Our house and shed gets full of mold every winter. After these guys clean, everything looks brand new! Pricing is affordable too. They're quick to respond back when reaching out, their friendly team were here to clean in less than a week. We will keep using them!
Diane Forristall
2022-04-16
Extremely happy with the outcome. Terrific job! Would highly recommend Adam and crew.
Was great dealing with complete power washing, priced well and very professional, Picture talks for itself, Would defiantly recommend to others and will absolutely use this company for future jobs.... Thank you
Colleen Weathers
2022-03-21
100% recommend Complete Power Washing! Excellent Professional prompt and quality service! Thank you very much Adam!