Top-Rated House Washing in Freehold
Whatever cleaning requirements you may have in the area, Complete Power Washing is the house washing company prepared to help. We are a cleaning firm with a focus on customer care, offering pressure washing, gentle washing, roof cleaning, and more. If you are tired of searching for the best Freehold house washing near me, look no further. As a small business, we take great satisfaction in providing excellent house washing in Freehold, NJ services to each member of our client family. We have made the finest investments possible so that our clients can benefit from a skilled, knowledgeable team of professionals. As a cleaning service, we make it a practice to give each of our clients a personal estimate of the cleaning work needed so they understand what to anticipate. To ensure that our customers are enjoying the best value for their money, we work hard to provide the most accurate, customized quotes we can.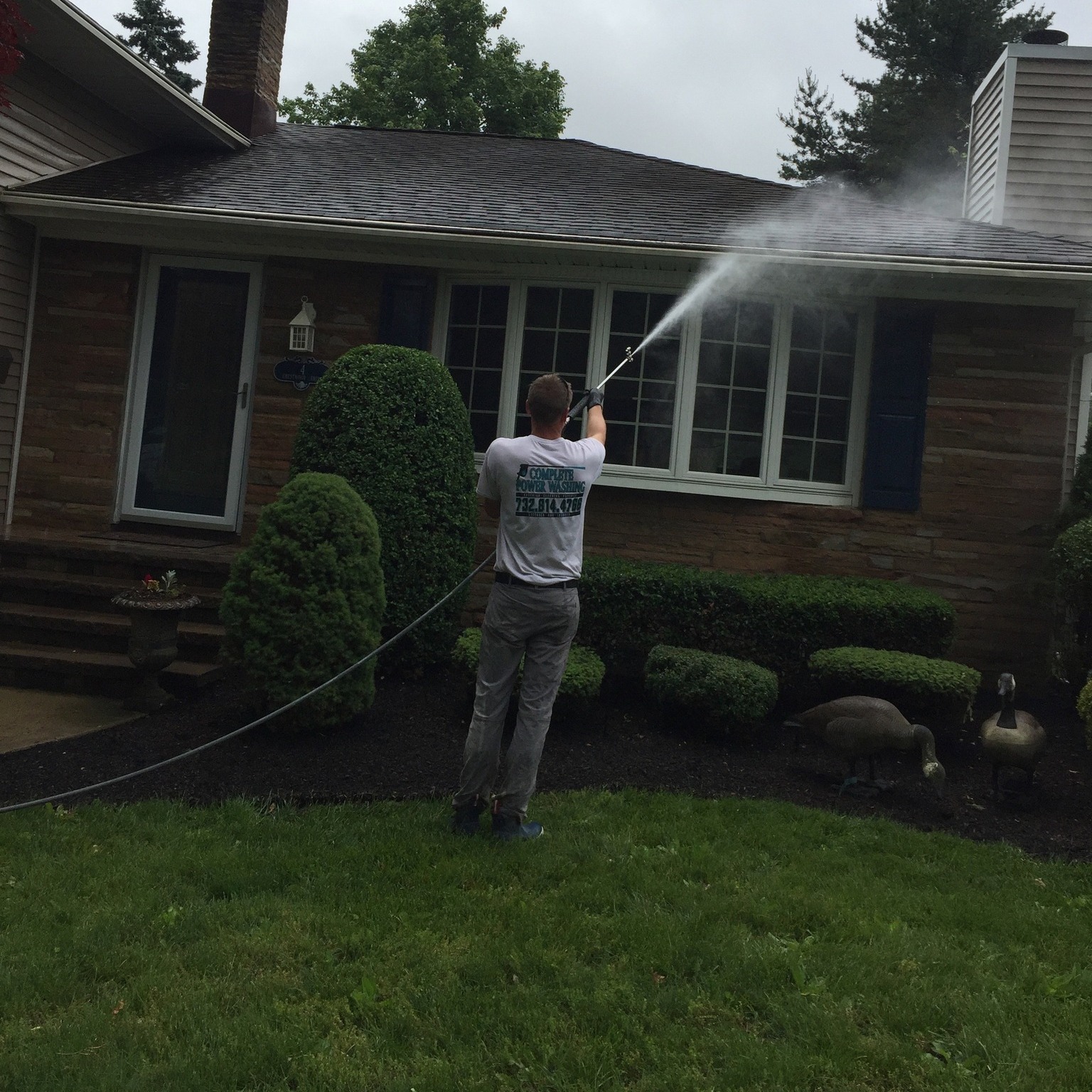 Searching for Freehold House Washing Near Me?
Our team will gladly clean your home with the best cleaning products and methods. Only soft-wash house washing can effectively clean the exterior of your property without causing any damage. Unquestionably, this strategy is both secure and efficient. We thoroughly clean the exterior of your home using state-of-the-art soft washing equipment and specific cleaning solutions, making your exterior appear brand new. Pressure washing, which uses a lot of PSI power to clean surfaces, might harm those surfaces. This problem does not exist with soft washing. Under minimal pressure, any kind of siding is stable. We will keep working on your home until you are happy if you are not pleased with our Freehold house washing near me services. Following a vinyl siding washing, the exterior of your property will appear significantly better. Additionally, it will maintain that outstanding cleanliness for a longer time frame.
We also offer a variety of other professional services such as Pressure Washing, Roof Cleaning, and much more.
Expert Exterior House Cleaning Freehold NJ Residents Trust
Our exterior house cleaning in Freehold, NJ services will thoroughly clean your home and make it appear as though the siding was newly installed. Complete Pressure Washing will take care of the dirt, pollen, and air pollution that could harm your façade. We'll be able to successfully remove them all, giving you a clean slate. Mold, algae, and mildew will all be removed by our cleaning services. It is insufficient to make these issues go away on the surface only. You must kill them in order to prevent them from resurfacing, which is what our cleaners excel at.

Call Today for House Washing in Freehold, NJ!
Freehold Township is located in Monmouth County, New Jersey. The 38 square miles that make up the city are conveniently located halfway between Philadelphia and New York City. Residents of the neighborhood enjoy a first-rate educational system, a renowned parks, and recreation division, and Freehold Raceway Mall, the main commercial center in the neighborhood. What makes Freehold Township so special is the ability to offer all of these comforts while preserving its rich rural and traditional charm. The Freehold Township Heritage Society, whose major objective is to safeguard and preserve the city's rich heritage, is based in the City. Numerous historical sites, such as the Wikoff Cemetery, Hartshorne Farm, and Blacksmith Shop, are accessible through guided tours and historical museums. Visitors and locals can travel to Downtown Freehold, the city's hub for activity and entertainment through dining and retail shopping, for more contemporary activities. Live street music, seasonal activities, and several festivals are all held in the downtown area.
The owner is one of the nicest people I've met. Very fair price. He power washed my deck railing free of charge. House looks great and his team was very quick, thorough, and clean. Will use this company again. Definitely
Adam is great to work with, competitive pricing , does a very thorough job actually washed more than his written estimate. Highly recommended
Damon Maverick
2022-05-05
Complete bang for your buck! Highly professional. They won't disappoint you at all.
Adam cleaned my brothers huge house for me and it turned out amazing!
Highly recommended. Adam was quick to respond and accommodating to rescheduling when needed. The pricing was fair and the work was great. Very efficient and easy to deal with. I will certainly use them again for future cleanings!
We've used Complete Power Washing a few times now. Our house and shed gets full of mold every winter. After these guys clean, everything looks brand new! Pricing is affordable too. They're quick to respond back when reaching out, their friendly team were here to clean in less than a week. We will keep using them!
Diane Forristall
2022-04-16
Extremely happy with the outcome. Terrific job! Would highly recommend Adam and crew.
Was great dealing with complete power washing, priced well and very professional, Picture talks for itself, Would defiantly recommend to others and will absolutely use this company for future jobs.... Thank you
Colleen Weathers
2022-03-21
100% recommend Complete Power Washing! Excellent Professional prompt and quality service! Thank you very much Adam!