Top-Rated Roof Cleaning in Millstone
Don't trust other Millstone, NJ roof cleaning near me services in the area to look after you. Call Complete Power Washing right now! We have many years of experience as a roof washing company revitalizing properties for clientele of various sizes. Our objective is to give dedication and hard work to all projects we work on in order to maintain the happiness of our clients. We make sure that our clients have the outcomes they desire right away so they will continue to come back to our company for all of their roof cleaning in Millstone, NJ requirements. We comprehend that for some people, allowing a group of strangers onto their property can be unsettling. As a result, we have comprehensive insurance coverage for every job to help provide our clients peace of mind by shielding them, their homes, and our team from any unforeseen concerns that might arise.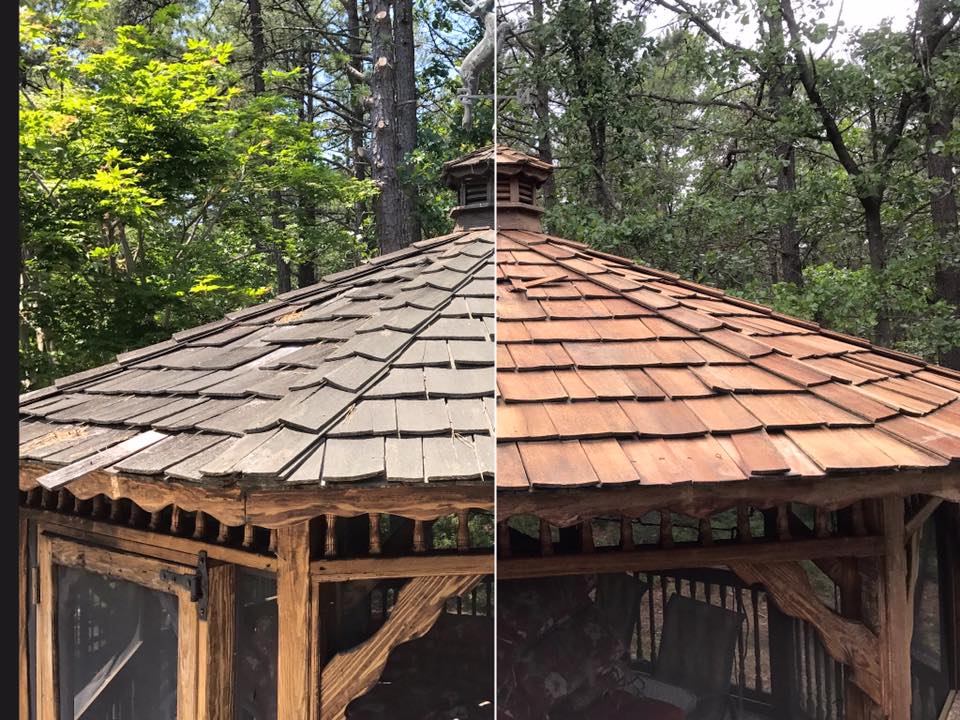 Searching for Millstone Roof Cleaning Near Me?
Make a valuable investment in the curb appeal of your house! Our roof cleaning method is the best way to keep your shingles in top condition, provide a fantastic first impression, and protect them over time. To remove the Gloeocapsa Magma-related black streaks on your roof, we provide a moderate washing solution that completely removes subsequent growths. Our solution includes a technique that will remove unattractive objects, get rid of fungi and bacteria, and protect your roof. Our cleaning products have the unmatched power to eliminate spots, discolorations, and other faults from your roof. Typically, moss, mildew, and mold will grow on roofs. Our cleaning treatments get rid of the issue at its root, stopping it from happening again.
Expert Roof Washing Millstone NJ Residents Trust
Regardless of the size or complexity of the job, we aim to provide each and every one of our clients with exceptional roof washing in Millstone, NJ services at a fair price. Before beginning, we will provide you with time and cost estimates so that you'll know exactly what to expect from our team. To ensure that we are trusted with all of our client's cleaning needs, we work hard to gain their loyalty and confidence. By getting a soft wash roof cleaning, you can spare yourself the hassle of having to later fix or replace it. With the help of our soft washing services, you won't have to worry as much about the state of your roof.

Call Today for Roof Washing in Millstone, NJ!
Millstone Township is situated in Monmouth County, New Jersey. Residents continue to enjoy the stunning surroundings that their town's ancestors enjoyed centuries ago. The National Register of Historic Places lists two buildings in the city. The first is the Township-owned Clarksburg Episcopal Methodist Church, which was built in 1845. The second is the 1923-built, four-room Clarksburg schoolhouse, which now serves as the new site of the municipality's administrative facilities. The township's unique location in the state's geographic center means that many important waterways that run all the way throughout the state begin there, making it the ideal spot for those who appreciate being outside. Athletic fields, parks, eateries, and retail stores are just a few of the nearby recreational amenities that locals can use.
We also offer professional house washing, pressure washing, and much more!
The owner is one of the nicest people I've met. Very fair price. He power washed my deck railing free of charge. House looks great and his team was very quick, thorough, and clean. Will use this company again. Definitely
Adam is great to work with, competitive pricing , does a very thorough job actually washed more than his written estimate. Highly recommended
Damon Maverick
2022-05-05
Complete bang for your buck! Highly professional. They won't disappoint you at all.
Adam cleaned my brothers huge house for me and it turned out amazing!
Highly recommended. Adam was quick to respond and accommodating to rescheduling when needed. The pricing was fair and the work was great. Very efficient and easy to deal with. I will certainly use them again for future cleanings!
We've used Complete Power Washing a few times now. Our house and shed gets full of mold every winter. After these guys clean, everything looks brand new! Pricing is affordable too. They're quick to respond back when reaching out, their friendly team were here to clean in less than a week. We will keep using them!
Diane Forristall
2022-04-16
Extremely happy with the outcome. Terrific job! Would highly recommend Adam and crew.
Was great dealing with complete power washing, priced well and very professional, Picture talks for itself, Would defiantly recommend to others and will absolutely use this company for future jobs.... Thank you
Colleen Weathers
2022-03-21
100% recommend Complete Power Washing! Excellent Professional prompt and quality service! Thank you very much Adam!