Top-Rated Roof Cleaning in Jackson
One of the top cleaning businesses in the area, Complete Power Washing is a service-oriented roof washing company prepared to take on any size assignment that our customers may require of us. As a small company in the area, we strive to provide the best Jackson, NJ roof cleaning near me services for clients of all sizes, from small to large. All of our customers should feel as though they received the cleaning services they need and are pleased with the outcomes our experienced staff delivered. We are members of the PWRA, which is an organization that certifies the caliber of the work we are capable of producing. Since we believe that our consumers deserve nothing less, we commit ourselves to the greatest standards. Knowing that you are hiring a qualified, skilled pro to maintain your property will give you peace of mind.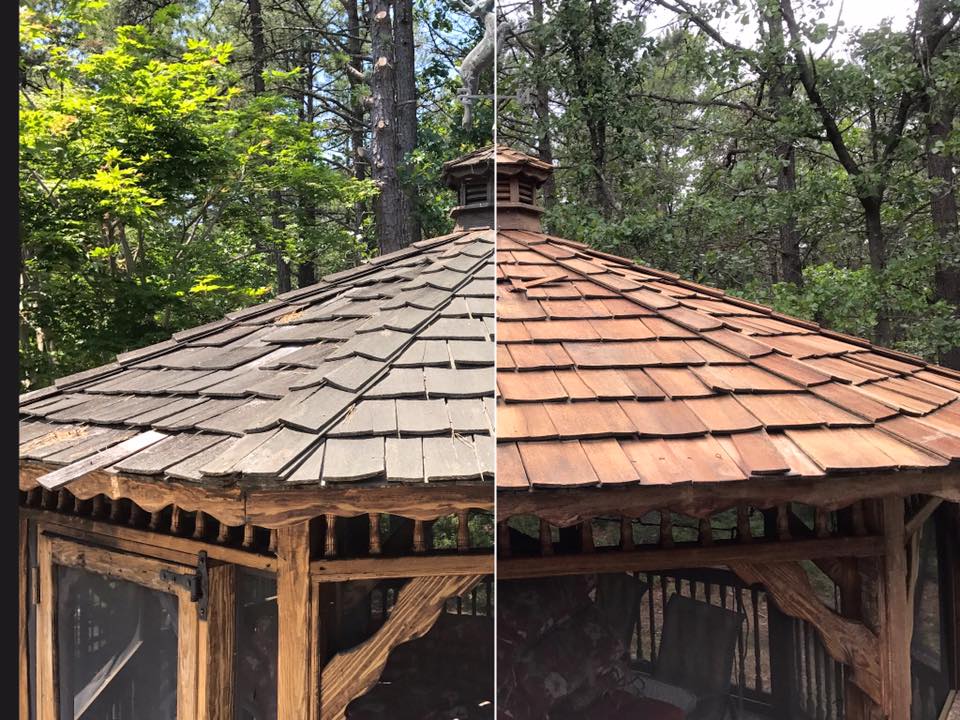 Searching for Jackson Roof Cleaning Near Me?
Spend money on your home's exterior from the top down! With the help of our roof cleaning in Jackson, NJ solutions, you can maintain quality, create a fantastic first impression, and protect your shingles over time. In addition to removing the black streaks on your roof caused by Gloeocapsa Magma, we offer a gentle washing solution that completely removes other growths. Our approach includes a way to get rid of unattractive objects, get rid of fungi and bacteria, and protect your roof. For removing stains, dark spots, and other faults from your roof, none of our cleaning treatments compare to ours. Moss, mildew and mold are often growing issues on roofs. Our remediation techniques remove the dirt at its source, avoiding recurrence.
Expert Roof Washing Jackson NJ Residents Trust
Regardless of the size or complexity of the job, we work hard to provide all of our customers with great roof washing in Jackson, NJ services that are reasonably priced. In order for you to know exactly what to expect from our team, we may provide you with time and cost estimates prior to beginning. We work hard to gain the loyalty and trust of our customers so that they can feel they can come to us for all of their cleaning needs. Getting a simple soft wash roof cleaning will spare you the trouble of later having to fix or replace it. You won't need to have any concerns about the state of your roof thanks to our soft washing services.

Call Today for Roof Washing in Jackson, NJ!
Jackson is a growing suburban community that offers a fantastic environment for families and companies to thrive. With a land area of more than 100 square miles and a population of around 60,000, it is one of the largest municipalities in New Jersey. Jackson Township is host to a first-rate public education system as well as top-notch recreational facilities, like freshly renovated parks and sports facilities. Outdoor lovers will find much to do throughout and around the city. Due to its gorgeous, tree-lined streets, Jackson, located less than an hour's drive from both New York City and Philadelphia, is sometimes known as the "Gateway to the Jersey Shore." Additionally, it is a place well-known for the Six Flags Theme Parks.
The owner is one of the nicest people I've met. Very fair price. He power washed my deck railing free of charge. House looks great and his team was very quick, thorough, and clean. Will use this company again. Definitely
Adam is great to work with, competitive pricing , does a very thorough job actually washed more than his written estimate. Highly recommended
Damon Maverick
2022-05-05
Complete bang for your buck! Highly professional. They won't disappoint you at all.
Adam cleaned my brothers huge house for me and it turned out amazing!
Highly recommended. Adam was quick to respond and accommodating to rescheduling when needed. The pricing was fair and the work was great. Very efficient and easy to deal with. I will certainly use them again for future cleanings!
We've used Complete Power Washing a few times now. Our house and shed gets full of mold every winter. After these guys clean, everything looks brand new! Pricing is affordable too. They're quick to respond back when reaching out, their friendly team were here to clean in less than a week. We will keep using them!
Diane Forristall
2022-04-16
Extremely happy with the outcome. Terrific job! Would highly recommend Adam and crew.
Was great dealing with complete power washing, priced well and very professional, Picture talks for itself, Would defiantly recommend to others and will absolutely use this company for future jobs.... Thank you
Colleen Weathers
2022-03-21
100% recommend Complete Power Washing! Excellent Professional prompt and quality service! Thank you very much Adam!