Top-Rated Power Washing in Jackson
Complete Power Washing, one of the top pressure washing in Jackson, NJ businesses, is a service-oriented cleaning business prepared to take on any size assignment that our customers may require of us. We put forth a lot of effort as a local business in the area to provide the best services for clients of all sizes, from small to large. All of our clients will feel satisfied with the Jackson, NJ pressure washing near me services they received from our experienced staff and with the end results. We are members of the PWRA, which serves as the industry standard for certifying the caliber of the power washing in Jackson, NJ service we are able to produce. Because we believe that's what our customers deserve, we hold ourselves to the greatest standards. You can relax knowing that a qualified, seasoned professional is cleaning your property.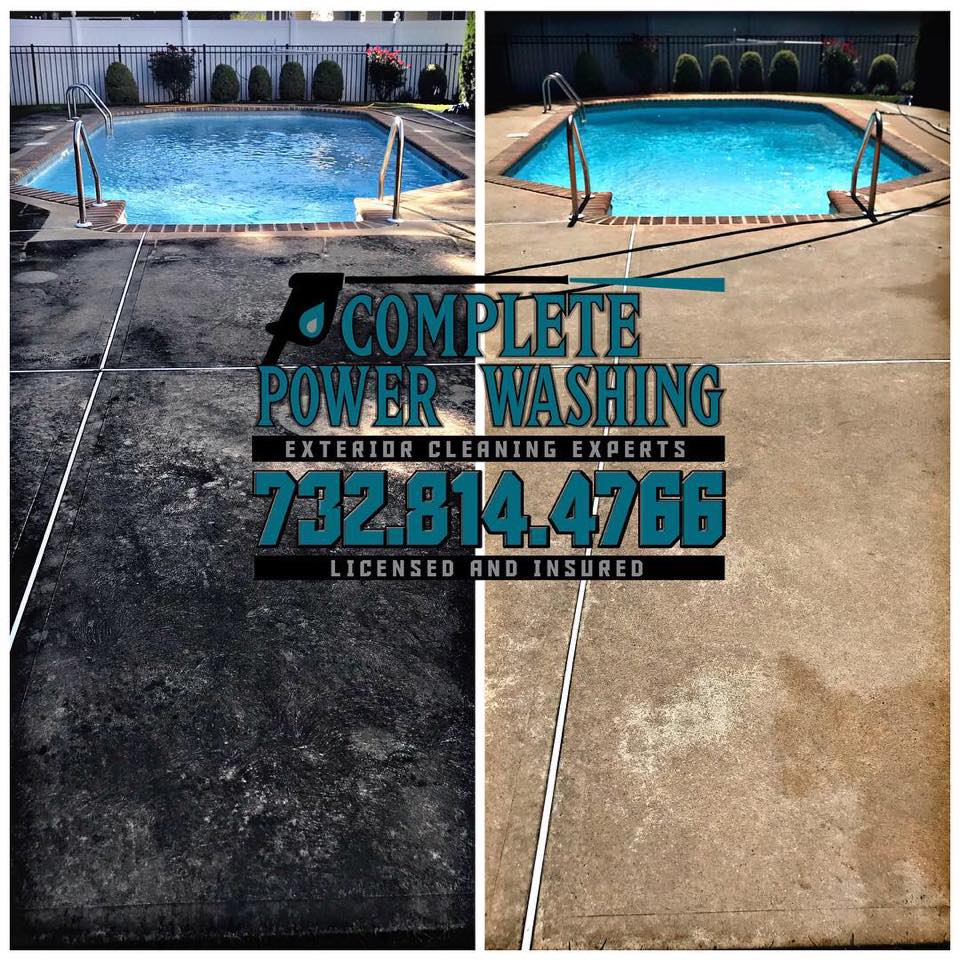 Searching for Jackson Pressure Washing Near Me?
The greatest method for eliminating accumulated dirt and grime from surfaces including houses, driveways, patios, walls, and more is pressure washing including driveway washing and patio cleaning. This cleaning method removes anything that should not be on a home's surface by combining a particular cleaning solution with a strong water spray. The ability to employ pressure washing on a variety of surfaces is its greatest benefit. Pressure washing can be used to bring back the original appearance of concrete, wood, blocks, decks, and other materials. Our staff has received significant training, and they are aware of how to properly rinse your surfaces to safeguard the interior's inhabitants as well as the surrounding plants. They have experience dealing with a wide range of surfaces and materials and can choose the appropriate tools and cleaning agents for your property to enhance its appearance without compromising its integrity.
Expert Concrete Washing Jackson NJ Residents Trust
To acquire results for your property that actually works, we make the best investments. In order to effectively pressure wash your property, we use deep-cleaning solutions that are designed specifically to remove the various spots that may be present. We also don't have any pressure washers from hardware stores in our tool collection. Your property gets the best thanks to our cutting-edge technologies. After using our concrete washing in Jackson, NJ service, your property's surfaces won't only be cleaner, but both their durability and safety will improve.
Call Today for Pressure Washing in Jackson, NJ!
Jackson Township is a developing suburban area that provides a great environment for both families and businesses to flourish. It is one of the biggest municipalities in New Jersey, spanning over 100 sq miles and housing close to 60,000 people. Jackson Township is home to a top-notch public education system and quality recreation amenities, such as recently restored parks and sports fields. Jackson, which is located less than an hour from both New York City and Philadelphia, is frequently referred to as the "Gateway to the Jersey Shore" due to its lovely neighborhoods lined with trees. The renowned Six Flags Theme Parks are located there as well. Residents are able to enjoy the local library, playground areas, a roller skating rink for younger residents, and several sporting complexes.
The owner is one of the nicest people I've met. Very fair price. He power washed my deck railing free of charge. House looks great and his team was very quick, thorough, and clean. Will use this company again. Definitely
Adam is great to work with, competitive pricing , does a very thorough job actually washed more than his written estimate. Highly recommended
Damon Maverick
2022-05-05
Complete bang for your buck! Highly professional. They won't disappoint you at all.
Adam cleaned my brothers huge house for me and it turned out amazing!
Highly recommended. Adam was quick to respond and accommodating to rescheduling when needed. The pricing was fair and the work was great. Very efficient and easy to deal with. I will certainly use them again for future cleanings!
We've used Complete Power Washing a few times now. Our house and shed gets full of mold every winter. After these guys clean, everything looks brand new! Pricing is affordable too. They're quick to respond back when reaching out, their friendly team were here to clean in less than a week. We will keep using them!
Diane Forristall
2022-04-16
Extremely happy with the outcome. Terrific job! Would highly recommend Adam and crew.
Was great dealing with complete power washing, priced well and very professional, Picture talks for itself, Would defiantly recommend to others and will absolutely use this company for future jobs.... Thank you
Colleen Weathers
2022-03-21
100% recommend Complete Power Washing! Excellent Professional prompt and quality service! Thank you very much Adam!