Top-Rated House Washing in Jackson
As one of the best house washing in Jackson, NJ companies, Complete Power Washing is a service-focused cleaning company ready to tackle any sized project that our clients might need us for. As a small house washing company in the region, we work hard for all sized clients, from small to large, to give them the best services possible. We want all our customers to feel like they received the cleaning services that they deserved and are happy with the results our experienced team provided them. We are a member of the PWRA which is an industry certification of the quality of work we are able to provide. We hold ourselves to the highest standards because we know that's what our customers deserve. You can rest easy knowing that you are getting a certified, experienced professional to clean your property.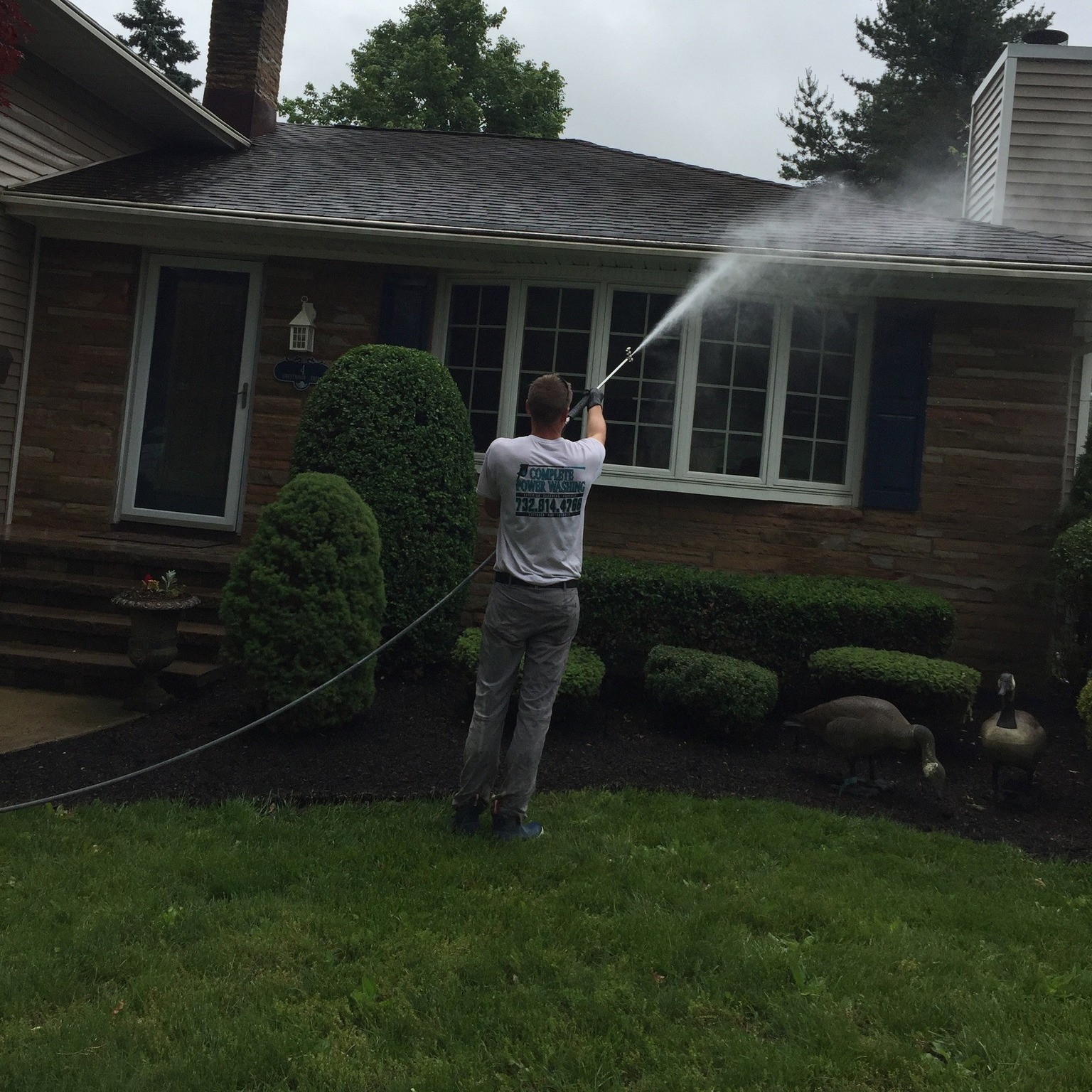 Searching for Jackson House Washing Near Me?
The best cleaning products and methods will be used by our personnel to completely clean your home. The only effective cleaning method for your home's exterior that won't harm it is soft wash house washing. This strategy has proven many times to work and be safe. We thoroughly clean the exterior of your residence with state-of-the-art soft washing machinery and specialized cleaning solutions, making your siding seem new. Surfaces cleaned with pressure washing, which exerts a lot of force, may be harmed by the pressure. This problem is not present when performing a soft wash. Under light pressure, siding of any kind is secure. Our team of professionals will keep working until you are happy with our professional exterior house cleaning in Jackson, NJ services if you are not the first time. After a vinyl siding washing, the exterior of your property will appear more vibrant. Furthermore, it will stay that outstanding clean for a long period of time.
Expert Exterior House Cleaning Jackson NJ Residents Trust
With our gentle washing service, your home will be fully cleaned. To handle the dirt, pollen, and air pollution that could harm your façade, you can rely on the services of Complete Pressure Washing. We'll successfully remove them all, giving you a clean slate. Mold, algae, and mildew can all be eliminated by using our cleaning services. Solving these issues on the surface is not enough. You must kill them in order to prevent them from reappearing; our technicians do both tasks. If there is dirt or mold on your siding, it might streak occasionally. We get rid of those eyesores with our Jackson, NJ house washing near me services so that your house looks brand new.

Call Today for House Washing in Jackson, NJ!
A growing suburban community like Jackson Township offers a terrific setting for both households and companies to thrive. It is one of New Jersey's largest municipalities, covering more than 100 square miles and home to nearly 60,000 people. High-caliber parks and sports facilities, as well as a first-rate public education system, are found in Jackson Township. Due to its picturesque neighborhoods with tree-lined streets and proximity to both New York City and Philadelphia, Jackson is commonly referred to as the "Gateway to the Jersey Shore."
The owner is one of the nicest people I've met. Very fair price. He power washed my deck railing free of charge. House looks great and his team was very quick, thorough, and clean. Will use this company again. Definitely
Adam is great to work with, competitive pricing , does a very thorough job actually washed more than his written estimate. Highly recommended
Damon Maverick
2022-05-05
Complete bang for your buck! Highly professional. They won't disappoint you at all.
Adam cleaned my brothers huge house for me and it turned out amazing!
Highly recommended. Adam was quick to respond and accommodating to rescheduling when needed. The pricing was fair and the work was great. Very efficient and easy to deal with. I will certainly use them again for future cleanings!
We've used Complete Power Washing a few times now. Our house and shed gets full of mold every winter. After these guys clean, everything looks brand new! Pricing is affordable too. They're quick to respond back when reaching out, their friendly team were here to clean in less than a week. We will keep using them!
Diane Forristall
2022-04-16
Extremely happy with the outcome. Terrific job! Would highly recommend Adam and crew.
Was great dealing with complete power washing, priced well and very professional, Picture talks for itself, Would defiantly recommend to others and will absolutely use this company for future jobs.... Thank you
Colleen Weathers
2022-03-21
100% recommend Complete Power Washing! Excellent Professional prompt and quality service! Thank you very much Adam!