Top-Rated Roof Cleaning in Bordentown
As a roof washing company with years of experience providing top-tier roof cleaning in Bordentown, NJ services, Complete Power Washing is ready to handle any size project you might have. From small single-building jobs to larger multi-building properties, our team is ready to give you the cleaning services you need to bring your structures back to life. We are proud to be able to offer personalized services to our clients that meet their individual needs while also improving their property's appearance and value. If you need some convincing that our services are the right ones for you we can provide you with a demo! A technician of our experienced cleaning team will come out to conduct a demo with you on your property and show you how well we can transform your property.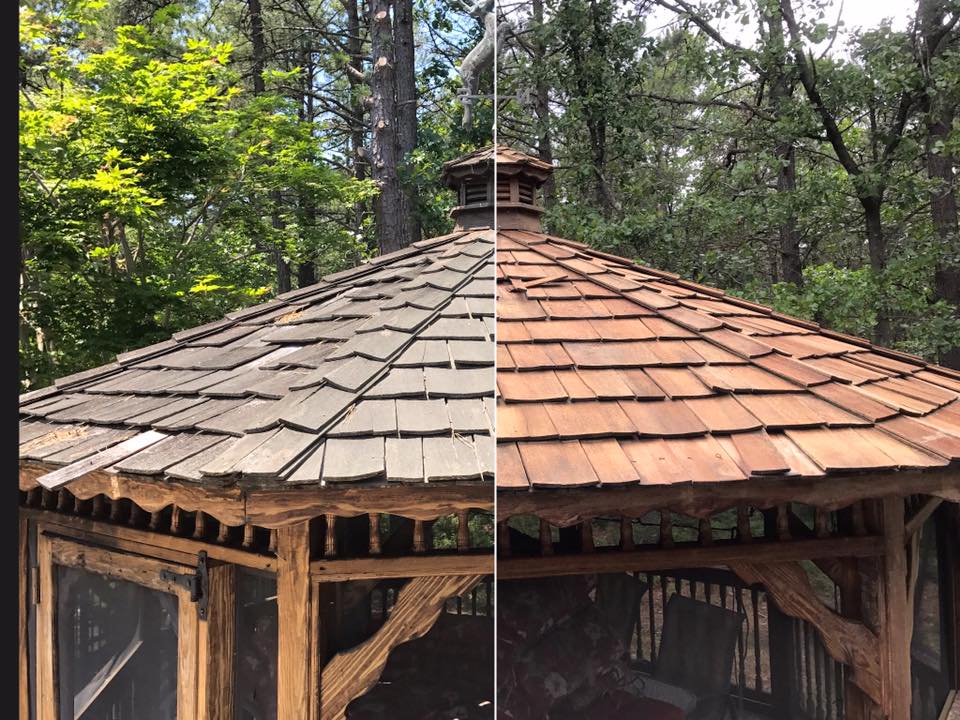 Searching for Bordentown Roof Cleaning Near Me?
Make a top-down investment in your home's curb appeal! The greatest approach to maintain quality, make a wonderful first impression, and safeguard your shingles over time is with our roof washing in Bordentown, NJ solutions. We provide a mild washing solution that thoroughly eliminates additional growths in addition to the Gloeocapsa Magma-related black streaks on your roof. Our solution incorporates a method that will eliminate unsightly items, eradicate fungi and bacteria, and safeguard your roof. Our cleaning solutions are unrivaled in their ability to remove stains, discolorations, and other flaws from your roof. Roofs frequently have moss, mildew, and mold growing on them. Our soft washing solutions eliminate the blight at its source, preventing recurrence.
Expert Roof Washing Bordentown NJ Residents Trust
We strive to offer every one of our clients excellent Bordentown, NJ roof cleaning near me services that are economically priced, regardless of the scope or difficulty of the task. We can give you time and expense estimates prior to starting so that you will know precisely what to anticipate from our team. We strive to earn our clients' loyalty and confidence in order for them to entrust us with every one of their cleaning requirements. You can save yourself the issue of having to subsequently fix or replace it by getting a straightforward soft wash roof cleaning. Our roof washing services mean that you won't need to be concerned as much about the condition of your roof.

Call Today for Roof Washing in Bordentown, NJ!
The City of Bordentown, located in northern Burlington County, New Jersey, is at the intersection of Routes 206 and 130. In addition to a plethora of historical landmarks, the small city offers its residents a modern community. To peruse a variety of shops and enjoy dinner at one of the city's many elegant restaurants, visitors can visit Bordentown's downtown. For the enjoyment of its residents, the city has five noteworthy parks. In these parks, there are numerous different recreational activities. Baseball and soccer leagues are created for kids of all ages to play in. In addition, Bordentown hosts yearly celebrations including its Thanksgiving Day run and winter lights festival. With a long history, Bordentown is a popular place to visit for those who like to browse its many book and record stores, historical monuments, and art galleries.
The owner is one of the nicest people I've met. Very fair price. He power washed my deck railing free of charge. House looks great and his team was very quick, thorough, and clean. Will use this company again. Definitely
Adam is great to work with, competitive pricing , does a very thorough job actually washed more than his written estimate. Highly recommended
Damon Maverick
2022-05-05
Complete bang for your buck! Highly professional. They won't disappoint you at all.
Adam cleaned my brothers huge house for me and it turned out amazing!
Highly recommended. Adam was quick to respond and accommodating to rescheduling when needed. The pricing was fair and the work was great. Very efficient and easy to deal with. I will certainly use them again for future cleanings!
We've used Complete Power Washing a few times now. Our house and shed gets full of mold every winter. After these guys clean, everything looks brand new! Pricing is affordable too. They're quick to respond back when reaching out, their friendly team were here to clean in less than a week. We will keep using them!
Diane Forristall
2022-04-16
Extremely happy with the outcome. Terrific job! Would highly recommend Adam and crew.
Was great dealing with complete power washing, priced well and very professional, Picture talks for itself, Would defiantly recommend to others and will absolutely use this company for future jobs.... Thank you
Colleen Weathers
2022-03-21
100% recommend Complete Power Washing! Excellent Professional prompt and quality service! Thank you very much Adam!