Top-Rated House Washing in Bordentown
Complete Power Washing is a house washing company with years of experience in the area, and we're equipped to tackle any size project you may have. Our crew is prepared to provide you with the house washing in Bordentown, NJ services you require to breathe new life into your structures, whether they are tiny single-building complexes or larger multi-building properties. We take pride in providing our clients with individualized Bordentown, NJ house washing near me services that cater to their particular needs while also enhancing the look and value of their properties. We can give you a demo if you require some persuading that our service is the best fit for you.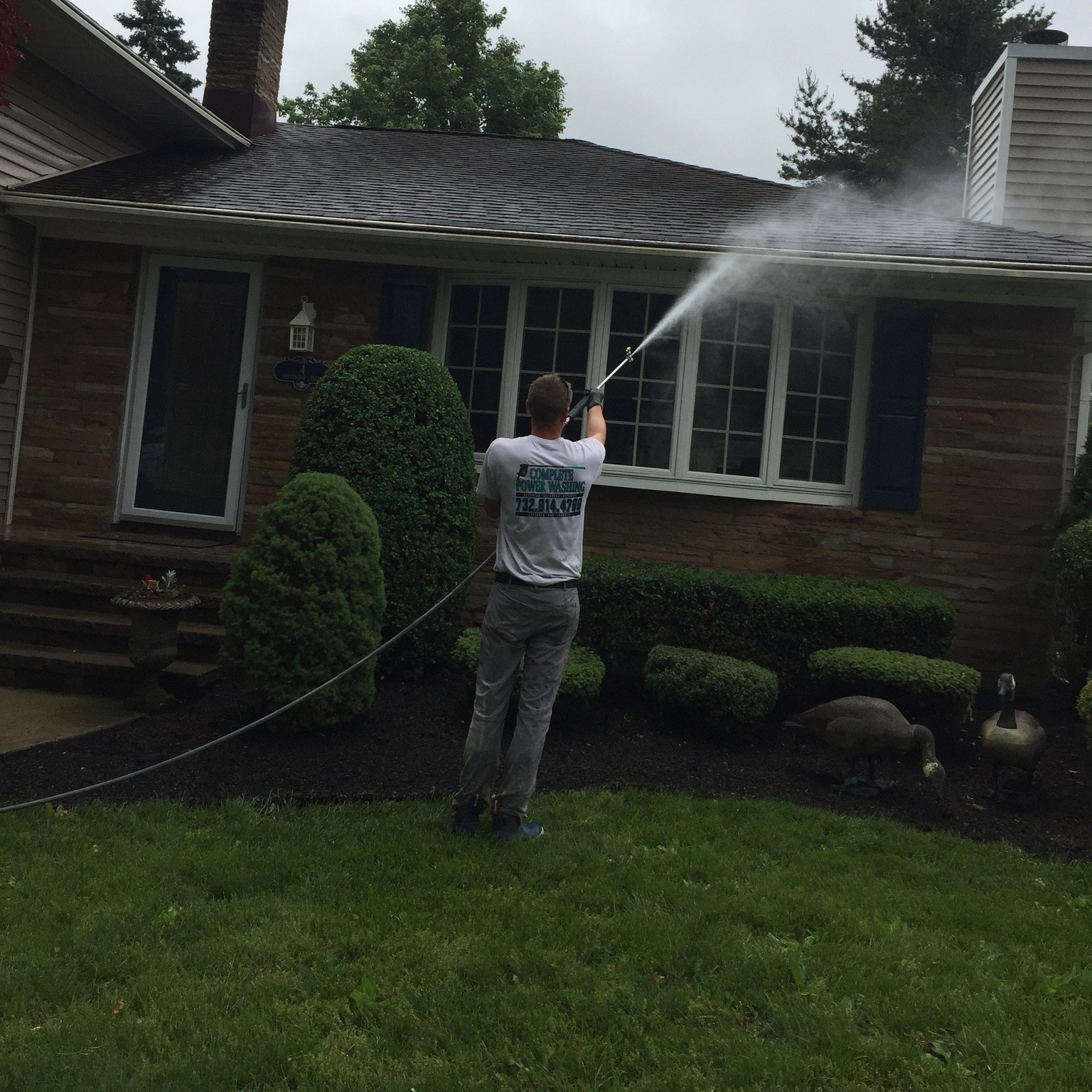 Searching for Bordentown House Washing Near Me?
Our staff will happily clean your house using the most effective cleaning solutions and techniques. Your home's exterior can only be thoroughly cleaned with soft washing without being damaged. This approach is undoubtedly the safest and most effective. We use cutting-edge soft washing equipment together with specialized cleaning supplies to give the exterior of your home a thorough cleaning that makes your siding appear brand new. Surfaces that are cleaned by pressure washing, which applies a lot of pounds per square inch of power can be damaged by the pressure. Soft wash house washing does not have this issue. Any sort of siding is secure under low pressure. If you are not satisfied with our vinyl siding washing service, we will continue our job until you are. Your home's exterior will look brighter after a soft wash and it will keep that superior clean for a longer period of time.
Expert Exterior House Cleaning Bordentown NJ Residents Trust
Our soft washing service is intended to thoroughly clean your property and give you the impression that your home was just built. You can count on the exterior house cleaning in Bordentown, NJ service from Complete Pressure Washing to manage the grime, pollen, and air pollution that can damage your façade. To give you a fresh start, we will successfully clean them all. Our cleaning services will also get rid of mold, algae, and mildew. It is not sufficient to resolve these problems at the surface level. To stop them from resurfacing, you must kill them, and our cleaners do both.

Call Today for House Washing in Bordentown, NJ!
The City of Bordentown, New Jersey, is located in the northern part of Burlington County at the intersection of Routes 206 and 130. The small city offers its residents a modern neighborhood in addition to a richness of historic sites. Travelers can visit Bordentown's downtown to peruse a variety of stores and enjoy dinner at one of the city's many chic restaurants. Five notable parks are present in the city for the enjoyment of its residents. These parks offer a wide variety of recreational options including baseball and soccer leagues organized for young people of all ages. Bordentown also hosts yearly celebrations such as its Fall Festival, Turkey Trot, and Winter Lighting Festival. Due to its extensive history, Bordentown is a popular destination for tourists who like to explore its many museums, historical landmarks, and art galleries.
The owner is one of the nicest people I've met. Very fair price. He power washed my deck railing free of charge. House looks great and his team was very quick, thorough, and clean. Will use this company again. Definitely
Adam is great to work with, competitive pricing , does a very thorough job actually washed more than his written estimate. Highly recommended
Damon Maverick
2022-05-05
Complete bang for your buck! Highly professional. They won't disappoint you at all.
Adam cleaned my brothers huge house for me and it turned out amazing!
Highly recommended. Adam was quick to respond and accommodating to rescheduling when needed. The pricing was fair and the work was great. Very efficient and easy to deal with. I will certainly use them again for future cleanings!
We've used Complete Power Washing a few times now. Our house and shed gets full of mold every winter. After these guys clean, everything looks brand new! Pricing is affordable too. They're quick to respond back when reaching out, their friendly team were here to clean in less than a week. We will keep using them!
Diane Forristall
2022-04-16
Extremely happy with the outcome. Terrific job! Would highly recommend Adam and crew.
Was great dealing with complete power washing, priced well and very professional, Picture talks for itself, Would defiantly recommend to others and will absolutely use this company for future jobs.... Thank you
Colleen Weathers
2022-03-21
100% recommend Complete Power Washing! Excellent Professional prompt and quality service! Thank you very much Adam!